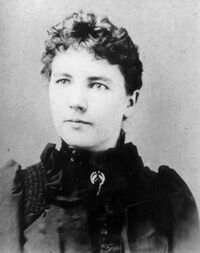 Laura Ingalls Wilder (February 7, 1867 - February 10, 1957) was the author of the Little House series. This series was based on her childhood as part of American pioneering family. In addition to the Little House series, the book Laura Ingalls Wilder: A Family Collection is a collection of the short stories Ms. Wilder wrote for the paper the Missouri Ruralist.
Books
On the Banks of Plum Creek
Old Town in the Green Groves
By the Shores of Silver Lake
The Long Winter
Little Town on the Prairie
These Happy Golden Years
The First Four Years
External links
Ad blocker interference detected!
Wikia is a free-to-use site that makes money from advertising. We have a modified experience for viewers using ad blockers

Wikia is not accessible if you've made further modifications. Remove the custom ad blocker rule(s) and the page will load as expected.