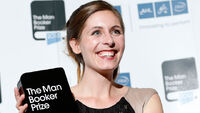 Keri Hulme (born March 9, 1947) is an author from New Zealand. She wrote the award winning novel The Bone People. She has also written poetry and short stories. Ms. Hulme has also written under the pseudonym of Kai Tainui.
References
New Zealand Book Council article on Keri Hulme
Ad blocker interference detected!
Wikia is a free-to-use site that makes money from advertising. We have a modified experience for viewers using ad blockers

Wikia is not accessible if you've made further modifications. Remove the custom ad blocker rule(s) and the page will load as expected.