J.K. Rowling
Talk

3
1,119pages on
this wiki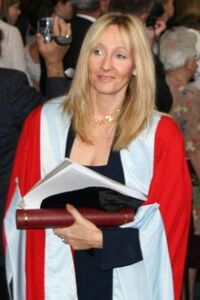 Joanne Kathleen Rowling (real name Joanne Rowling, without a middle name), also known as J.K. Rowling, is a British author best known for writing the Harry Potter series.
She started using her initials as an author because the publisher thought boys would be less likely to read a book written by someone with a "woman's name". It was felt that "J. Rowling" wouldn't look right, so for the middle initial of her pen name she adopted her grandmother's name.
Profits from the Harry Potter series have made her one of the richest women in the world, and she is noted for her generous gifts to charitable causes.
Among other books, she has written the seven volumes of the Harry Potter Series:
Rowling's first non-Potter related book, a novel for adults called The Casual Vacancy was published in 2012. Rowling used the pseudonym Robert Galbraith for her second work of adult fiction, the 2013 mystery novel The Cuckoo's Calling.
External links
Edit

This article is a stub. You can help the Literawiki by expanding it.