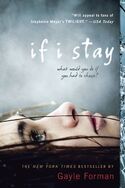 If I Stay is a young adult thriller novel by Gayle Forman.
Plot
Mia is 17 years old and trying to deal with the aftermath of a terrible car accident involving her family that left her in a coma. While comatose, she has a weird out-of-body experience where she can watch her friends and family gather at the hospital where she is being treated. Watching her memories flash before her eyes, Mia has to decide if she is going to wake up or slip away and die.
External links
Ad blocker interference detected!
Wikia is a free-to-use site that makes money from advertising. We have a modified experience for viewers using ad blockers

Wikia is not accessible if you've made further modifications. Remove the custom ad blocker rule(s) and the page will load as expected.