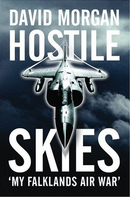 Hostile Skies is an autobiography by David Morgan, recounting his time aboard HMS Hermes, one of two British aircraft carrier which served during the Falklands War. Morgan flew Sea Harriers from the ship during the Falklands war, and was personally credited for shooting down two Argentine Skyhawks as well as two helicopters. After the conflict Morgan was awarded the distinguished flying cross.
The book tells of Morgan's many sorties during the Falklands War, it includes his letters sent home and gives the reader an insight into the Falklands War and fighter pilots which is hard to find elsewhere.
Ad blocker interference detected!
Wikia is a free-to-use site that makes money from advertising. We have a modified experience for viewers using ad blockers

Wikia is not accessible if you've made further modifications. Remove the custom ad blocker rule(s) and the page will load as expected.