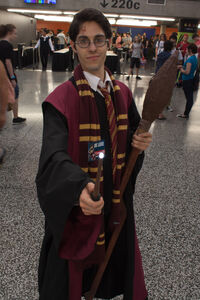 One of the most popular series for young people, the Harry Potter series consists of seven novels about a young boy who discovers he has magical powers. The author is J. K. Rowling. The books have interested countless children in reading. Many adults enjoy them too.
Series
The seven books in the series are
There are also a few related books: Fantastic Beasts and Where to Find Them, Quidditch Through the Ages and The Tales of Beedle the Bard
Harry Potter and the Cursed Child is known as the eighth book in the series, and is written as a play. Fantastic Beasts and Where to Find Them: The Original Screenplay is also avalible.
Recommendations
If you like these books, you might also enjoy
External links
Ad blocker interference detected!
Wikia is a free-to-use site that makes money from advertising. We have a modified experience for viewers using ad blockers

Wikia is not accessible if you've made further modifications. Remove the custom ad blocker rule(s) and the page will load as expected.