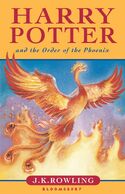 Harry Potter and the order of the Phoenix is the fifth novel in the Harry Potter series by J.K. Rowling. It was first published in 2003.
In the novel, Harry and Dumbledore fight the Ministry of Magic to make them believe Voldemort is back.
External links

This article is a stub. You can help the Literawiki by expanding it.
Ad blocker interference detected!
Wikia is a free-to-use site that makes money from advertising. We have a modified experience for viewers using ad blockers

Wikia is not accessible if you've made further modifications. Remove the custom ad blocker rule(s) and the page will load as expected.