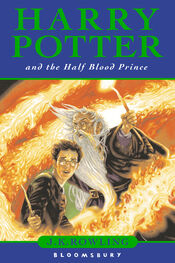 Harry Potter and the Half-Blood Prince is the sixth novel in the Harry Potter series by J.K. Rowling. It was first published in 2005.
In the novel, Harry and Dumbledore set out to find Horace Slughorn to find the key to destroy Voldemort and his Death Eaters.
Awards and honors
2006 Best Books for Young Adults
2006 British Book of the Year Awards
Oppenheim Toy Portfolio Platinum Seal
Quill Award for Best Book of the Year
2006 Royal Mail Award for Scottish Children's Books
External links

This article is a stub. You can help the Literawiki by expanding it.[[pt-br:Harry Potter e o Enigma do Príncipe]
Ad blocker interference detected!
Wikia is a free-to-use site that makes money from advertising. We have a modified experience for viewers using ad blockers

Wikia is not accessible if you've made further modifications. Remove the custom ad blocker rule(s) and the page will load as expected.