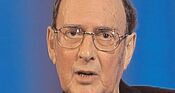 Harold Pinter won the Nobel Prize for Literature in 2005. Whilst still in his teens he published poetry and was a keen actor in school plays. As an adult he was well known for his screenplays including French Lieutenant's Woman. He has written one novel, The Dwarfs.
Mr. Pinter was born in 1930 and died in 2008. His wife was Antonia Fraser. He wrote primarily plays and screen plays. He was also a director and actor.
External links
This article is a stub. You can help the Literawiki by expanding it.
Ad blocker interference detected!
Wikia is a free-to-use site that makes money from advertising. We have a modified experience for viewers using ad blockers

Wikia is not accessible if you've made further modifications. Remove the custom ad blocker rule(s) and the page will load as expected.