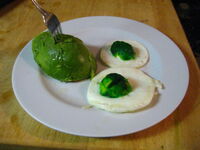 Green Eggs and Ham by Dr. Seuss is an easy to read, rhyming story for children. It was first published in 1960. The book is about someone who is certain he will not like the green eggs and ham (but who has not tasted them yet). It is a cumulative story which starts with a simple phrase and builds on it, adding a new phrase or sentence with each repetition.
According to Snopes.com, the urban legend investigation site, it is true that Dr. Seuss wrote this book in response to a challenge from his editor to write a book that used fewer than 50 different words. [1]
According to Wikipedia[2]:
The fifty words used are: a, am, and, anywhere, are, be, boat, box, car, could, dark, do, eat, eggs, fox, goat, good, green, ham, here, house, I, if, in, let, like, may, me, mouse, not, on, or, rain, Sam, say, see, so, thank, that, the, them, there, they, train, tree, try, will, with, would, you.
Recommendations
If you liked this book, you may also like
References
↑ Wikipedia's article on Green Eggs and Ham
External links
Ad blocker interference detected!
Wikia is a free-to-use site that makes money from advertising. We have a modified experience for viewers using ad blockers

Wikia is not accessible if you've made further modifications. Remove the custom ad blocker rule(s) and the page will load as expected.