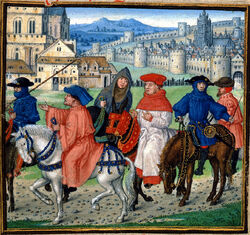 The "General Prologue" is the name given to the introductory text which opens The Canterbury Tales by Geoffrey Chaucer. In common with most of the rest of the work, it is written in verse. The "General Prologue" sets up the framing device which allows for the telling of several different short stories of various different types. It also introduces the characters of many of the different pilgrims who are the supposed narrators of those stories. To a certain extent, the different personalities and backgrounds of those pilgrims are reflected in the stories which are attributed to them.
Summary
The start of spring in April is the time of year when many people in England go on pilgrimages. Some travel to Christian shrines in faraway lands. Many more go to the city of Canterbury to pray at the tomb of the martyr Thomas Becket.[1] People often pray to the popular Saint Thomas when they are in great need and go to give thanks at his shrine in Canterbury after their prayers are answered.
Geoffrey Chaucer has begun traveling to Canterbury on a pilgrimage. He stops at an inn called the Tabard in the London borough of Southwark. Twenty-nine other pilgrims who are on their way to Canterbury also stop at the inn. Chaucer speaks with them and decides to join their group.
Descriptions of the pilgrims
Chaucer describes the following pilgrims in the "General Prologue":[2]
The telling of the tales
The landlord of the Tabard inn, who is named elsewhere in The Canterbury Tales as Harry Bailly and also referred to as the Host, enjoys the company of the pilgrims. He decides to join them on their pilgrimage to Canterbury. Harry Bailly proposes a way in which the pilgrims can entertain each other on their journey. He suggests that each of them should tell two stories on their way to Canterbury and two more on their way back.[9] He adds that the person who tells the best story will be rewarded with a meal at the Tabard inn when they return to Southwark. The other pilgrims agree that Harry Bailly should judge who tells the best tale.[10]
In order to decide who will tell the first story, Harry Bailly asks the Knight, the Clerk and the Prioress to draw straws. The Knight draws the shortest straw. Consequently, "The Knight's Tale" is the first of The Canterbury Tales.
Chaucer asks his readers not to blame him for any vulgarities in The Canterbury Tales. He says that this is because he has written the tales word-for-word exactly as he heard them from their original narrators.
Footnotes
External links