Erskine Caldwell
Talk

0
1,149pages on
this wiki
Copy of Wikipedia article - Deletion Notice

This article appears to be a substantial copy of the Wikipedia article: Erskine Caldwell

Please re-write this page or it may be deleted per the policy No Wikipedia Articles, thank you.
Erskine Preston Caldwell (1903-1987) was an American author. "one of the most widely read authors of the Twentieth Century, with eighty million books sold to readers in forty-three different languages."[1]
He was born in a house in the woods outside Moreland, Georgia, the son of a minister in the Associate Reformed Presbyterian Church. His early childhood was spent moving from state to state across the south, as his father found a position in one church after another.
Later, he attended, but did not graduate from, Erskine College. He was athletic, played football, stood six feet tall, and has been described by one of his publishers to have an unusually kind face and otherwise angelic appearance. His political sympathies lay with blue collar workers, and as he went from job to job in his younger days, drew on his experiences with common workers to write books that extolled the simple life of those less fortunate than he was. Later in life, he gave seminars on low income tenant-sharecroppers in the American South.
A professor at The University of Virginia encouraged him to write.
When his first book came out, it was banned (perhaps on the basis of the title alone, as bastard can be taken for an epithet), and copies were seized by authorities. Later, on the publication of God's Little Acre, authorities went even further and, at the instigation of the New York Literary Society (apparently incensed at Caldwell's choice of titles), arrested Caldwell and seized his copies when he went to New York for a book-signing event. A full trial exonerated Caldwell completely, and he counter-sued for false arrest and malicious prosecution. H. L. Mencken and Sherwood Anderson testified in support, and the win is considered a landmark in the defense of First Amendment rights (U.S. right to free speech).
Through the 1930s, Caldwell and his wife ran a bookstore in Maine. Caldwell was married to photographer Margaret Bourke-White from 1939 to 1942, and they collaborated on You Have Seen Their Faces (1937).
At the height of World War II, Caldwell obtained papers from the USSR that allowed him to travel to the Ukraine and work as a foreign correspondent documenting the war effort there. Disillusionment with the stifling intrigues of the Stalinist regime led him to pen a four page short story, "Message for Genevieve", published on returning to the United States in 1944. In this story, a woman journalist is executed by a firing squad after being tried in a secret court on charges of espionage.
After he came back from World War II, Caldwell took up residence in San Francisco. His ex-wife kept the bookstore in Maine as a property settlement.
During the last twenty years of his life, he got into the habit of traveling around the world for six months out of each year, and he took with him numerous notebooks to jot down his ideas on. Many of these notebooks were not published, but became part of his legacy upon his death, and can be examined in a museum dedicated to him. The house he was born in was moved from its initial site and preserved, and was made into a museum closer to town.
Caldwell,a heavy smoker, died from complications of emphysema and lung cancer on April 11, 1987, aged 83. He is interred in Scenic Hills Memorial Park, Oregon.
Recurring topics in his work include social justice, poverty
"The Georgia Cracker", essay (1926)
"Bastard", short story (1929)
"Poor Fool", short story (1930)
"American Earth", short story (1931)
Tobacco Road (1932)

Tobacco Road The Play adaptation by Jack Kirkland, based on the novel.

"We Are the Living", short story (1933)
God's Little Acre (1933)
"Tenant Farmers", essay (1935)
"Some American People", essay (1935)
Journeyman (1935)
Kneel to the Rising Sun, short stories (1935)
The Sacrilege of Alan Kent (1936)
You Have Seen Their Faces (with Margaret Bourke-White, 1937)
"Southways", short story (1938)
North of the Danube (1939)
Trouble in July (1940)
Say Is This the USA (1941)
Moscow Under Fire, foreign correspondence (1942)
Russia at War, foreign correspondence (1942)
All-Out on the Road to Smolensk, foreign correspondence (1942)
All Night Long (1942), A Novel of Guerilla Warfare in Russia (subtitle)
Georgia Boy (1943)
Tragic Ground (1944)
The Sure Hand of God (1947)
This Very Earth (1948)
A Place Called Estherville (1949)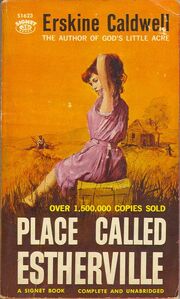 A Swell Looking Girl
The Humorous Side of Erskine Caldwell, edited by Robert Cantwell
Episode in Palmetto (1950)
Call It Experience, autobiography (1951)
The Courting of Susie Brown, short stories (1952)
A Lamp for Nightfall (1952)
Love and Money (1954)
The Complete Stories of Erskine Caldwell
Gretta (1955)
Gulf Coast Stories, short stories (1956)
Certain Women, short stories (1957)
Claudelle Inglish (1958)
Molly Cottontail, children's book (1958)
When You Think of Me, short stories (1959)
Jenny by Nature (1961)
Men and Women, short stories (1961)
The Last Night of Summer (1963)
In Search of Bisco, (travel writing, 1965)
The Deer at Our House, children's book (1966)
Writing in America, essay (1967)
Deep South, (travel writing, 1968)
Annette (1973)
Afternoons in Mid America, essays (1976)
With All My Might, (autobiography, 1987)
Erskine Caldwell: Selected Letters, 1929-1955, edited by Robert L. McDonald (1999)
References
Edit
External links
Edit