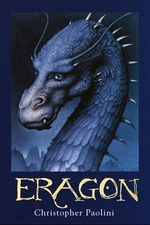 Eragon (ISBN 978-0-440-24073-0) is the first book in the Inheritance Cycle by Christopher Paolini. It was first published in 2003 and was originally published by a family press.
The protagonist, Eragon, is a young farmboy who discovers a large, polished, magical, saphire colored stone. As a result, he becomes involved in a dangerous set of adventures. Along the way, Eragon meets magicians, dwarfs, a witch, an elf and other interesting beings, including, most importantly, a dragon.
External links
This article is a stub. You can help the Literawiki by expanding it.
Ad blocker interference detected!
Wikia is a free-to-use site that makes money from advertising. We have a modified experience for viewers using ad blockers

Wikia is not accessible if you've made further modifications. Remove the custom ad blocker rule(s) and the page will load as expected.