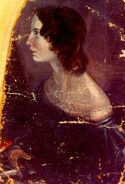 Emily Brontë was one of three sisters, each of whom wrote works that have become famous. Her sisters were Charlotte Brontë and Anne Brontë. Ms Brontë was born in 1818; she died in 1849. She used the pseudonym Ellis Bell.
The poet Emily Dickinson chose one of Emily Brontë's poems, "No coward soul", for her own funeral.[1]
Works
Emily Brontë's only novel was Wuthering Heights.
She also wrote poety, but very little of her personal writings have survived.
References
↑ Lilia Melani's page about Emily Bronte's poems on the Brooklyn College English Department (CUNY) site
Ad blocker interference detected!
Wikia is a free-to-use site that makes money from advertising. We have a modified experience for viewers using ad blockers

Wikia is not accessible if you've made further modifications. Remove the custom ad blocker rule(s) and the page will load as expected.