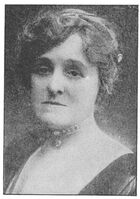 Edith Wharton (January 24, 1862 - August, 11 1937) was a Pulitzer Prize winning novelist and short story author.
Among her other writings, she wrote
Age of Innocence
The House of Mirth
This article is a stub. You can help the Literawiki by expanding it.
Ad blocker interference detected!
Wikia is a free-to-use site that makes money from advertising. We have a modified experience for viewers using ad blockers

Wikia is not accessible if you've made further modifications. Remove the custom ad blocker rule(s) and the page will load as expected.