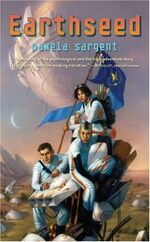 Earthseed is a young adult science fiction novel by Pamela Sargent. It was first published on January 2, 2007.
Plot
A century after all are dead on Earth, Ship races through space containing teenage inhabitants--artificially produced from the genetic banks of the Ship. To Zoheret and the other teenage inmates, Ship has been everything--parent, home, educator, friend. Then one day, Ship gives the teenagers a test which causes them to go against each other--and that could mean the end of mankind.
Ad blocker interference detected!
Wikia is a free-to-use site that makes money from advertising. We have a modified experience for viewers using ad blockers

Wikia is not accessible if you've made further modifications. Remove the custom ad blocker rule(s) and the page will load as expected.