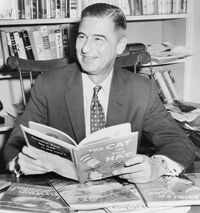 Theodor Seuss Geisel (March 2, 1904 - September 24, 1991), better known by the pen name Dr. Seuss was an American author who is well known for his many books for children. Seuss wrote and illustrated forty-four children's books which were published during his lifetime. His first book for children, And To Think That I Saw It on Mulberry Street, was published to critical acclaim in 1937. Seuss' popularity did not truly take off, however, until 1957, when The Cat in the Hat was first published, Other notable works by Seuss include How the Grinch Stole Christmas! (1957) and Green Eggs and Ham (1960), The last original work that Seuss prepared for publication was Oh, The Places You'll Go! in 1998. In 2015, a forty-fifth Dr. Seuss book, What Pet Should I Get?, based on a manuscript which Seuss wrote more than fifty years earlier, was published.
External links
This article is a stub. You can help the Literawiki by expanding it.
Ad blocker interference detected!
Wikia is a free-to-use site that makes money from advertising. We have a modified experience for viewers using ad blockers

Wikia is not accessible if you've made further modifications. Remove the custom ad blocker rule(s) and the page will load as expected.