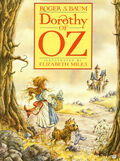 Dorothy of Oz is a children's fantasy novel by Roger S. Baum. It is a sequel to The Wonderful Wizard of Oz by L. Frank Baum, Roger S. Baum's grandfather.
An animated movie adaptation of the novel called Legends of Oz: Dorothy's Return was released in 2014.
Plot
Glinda the Good Witch summons Dorothy back to Oz when the Cowardly Lion, Scarecrow, and Tin Man find themselves in trouble. A Jester has apparently been using the Wicked Witch of the West's wand (which also contained the ghost of the Wicked Witch of the West) to take over the Land of Oz, and Dorothy's friends need her help to save Oz again.
External links
Ad blocker interference detected!
Wikia is a free-to-use site that makes money from advertising. We have a modified experience for viewers using ad blockers

Wikia is not accessible if you've made further modifications. Remove the custom ad blocker rule(s) and the page will load as expected.