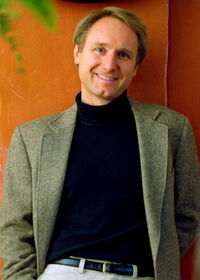 Dan Brown (born June 22, 1964) is the #1 New Yorks Times bestselling author, most famous for The Da Vinci Code. His books are known world wide and published in several different languages. Time magazine named him one of the 100 Most Influential People in 2005. He graduated from Amherst College and Phillips Exeter Academy. 
Works
Digital Fortress (1998)
Angels and Demons (2000)
Deception Point (2001)
The Da Vinci Code (2003) #1 worldwide bestseller
The Lost Symbol (2009)
Inferno (2013) #1 worldwide bestseller
External links
This article is a stub. You can help the Literawiki by expanding it.
Ad blocker interference detected!
Wikia is a free-to-use site that makes money from advertising. We have a modified experience for viewers using ad blockers

Wikia is not accessible if you've made further modifications. Remove the custom ad blocker rule(s) and the page will load as expected.