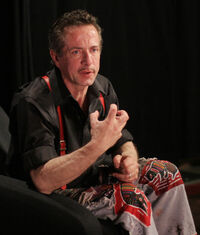 Clive Barker (born October 5, 1952 in Liverpool) is an English author, film director, and artist. His work mostly falls somewhere between dark fantasy and horror. A number of his works have been turned into films including:
The novella The Hellbound Heart was adapted into the movie Hellraiser, with Barker directing and writing the screenplay.
The novella Cabal was adapted into the movie Nightbreed, with Barker directing and writing the screenplay.
The short story "The Last Illusion" was adapted into the movie Lord of Illusions, with Barker directing and writing the screenplay.
The short story "The Forbidden" was adapted into the movie Candyman.
Barker's work often depicts disturbing imagery, graphic violence, and sexuality, although Barker has expressed a dissatisfaction with the excessive use of such elements in modern horror. For example, in his novella Cabal, a serial killer is contrasted with shapeshifting creatures who, though typically thought of as monsters, are much more compassionate than the human killer. Speaking about this contrast, Barker said:
"One of the things I wanted to do with the book was to set up a classic stalk-and-slash psycho, the 20th century monster on the loose - Decker - against the historical, mythological and fairy tale version of 'the monster' which is what Boone and the Nightbreed are. I have not moral but aesthetic problems with Freddy Krueger and Jason Vorhees and so on, and the notion that these characters are the stuff of which anti-heroes can be made strikes me as both morally dubious and also not very interesting. I wanted to say, look, this isn't really very attractive. Do we actually like these people...."[1]
A critical analysis of Barker's work appears in S. T. Joshi's The Modern Weird Tale (2001).
References
↑ From Revelations, the official Clive Barker website
Ad blocker interference detected!
Wikia is a free-to-use site that makes money from advertising. We have a modified experience for viewers using ad blockers

Wikia is not accessible if you've made further modifications. Remove the custom ad blocker rule(s) and the page will load as expected.