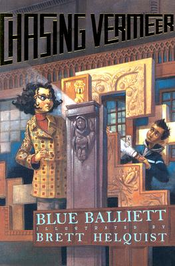 Chasing Vermeer is a children's mystery novel. It was written by Elizabeth Balliett Klein under the pseudonym Blue Balliett. It was first published in 2003. The book centers around two Chicago sixth graders, Calder Pillay and Petra Andalee, who come together through a series of unexplainable coincidences. When a famous Johannes Vermeer painting, A Lady Writing, is stolen, the two kids work together to solve the mystery that even the FBI cannot solve.
Awards
Book Sense Book of the Year
Edgar Award
Agatha Award
Chicago Tribune Prize for Young Adult Fiction
Illustrations
The book is illustrated by Brett Helquist, who is also the illustrator of the A Series of Unfortunate Events books. In his illustrations, he has hidden a secret message, which involves a secret code/cipher from the book.
Sequels
Chasing Vermeer has two sequels, The Wright 3 and The Calder Game. The Wright 3 involves the tearing down of a Chicago Frank Lloyd Wright building most commonly referred to as The Robie House. The third in the series, The Calder Game, involves the famous sculptor Alexander Calder and the kidnapping of one of the main characters, Calder Pillay.
External links