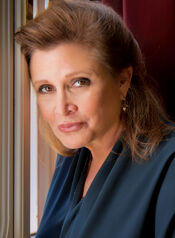 Carrie Frances Fisher (October 21, 1956 - December 27, 2016) was an American actress, producer, non-fiction writer, playwright, screenwriter and novelist. She was the daughter of singer Eddie Fisher and actress Debbie Reynolds
Fisher is best known for her portrayal of Princess Leia Organa in the Star Wars film series, although her comedic novels have also won praise.
Works
Novels
Postcards from the Edge (1987)
Surrender the Pink (1990)
Delusions of Grandma (1993)
The Best Awful There Is (2004)
Non-fiction
Wishful Drinking (2008)
Shockaholic (2011)
The Princess Diarist (2016)
Fisher also wrote the introduction to Hollywood Mons, a 2001 photography book by Joyce Ostin.
Plays
Wishful drinking (2006, revised 2008)
A Spy in the House of Me (2008)
Screenplays
Postcards from the Edge (1990)
Three Old Broads (2001)
E-Girl (2007)
Fisher also contributed to the screenplays of Sister Act (1992), Last Action Hero (1993) and The Wedding Singer (1998).
External links
Ad blocker interference detected!
Wikia is a free-to-use site that makes money from advertising. We have a modified experience for viewers using ad blockers

Wikia is not accessible if you've made further modifications. Remove the custom ad blocker rule(s) and the page will load as expected.