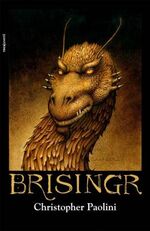 Brisingr is the third book in the Inheritance Cycle by Christopher Paolini
Synopsis
"Oaths sworn... loyalties tested... forces collide."

After the collosal battle on the burning plains against the Empire's warriors, Eragon and his dragon, Sapphira, have narrowly escaped with their lives. Still, there is more at hand with the rider and his dragon as Eragon finds himself caught in a web of promises that he might not be able to keep.
First is Eragon's oath to his cousin Roran: to help rescue his beloved, Katerina, from King Galbitorix's clutches. But Eragon owes his loyalty to others too. The Varden are in desperate need of his talents, as are the elves and dwarves. When unrest claims the rebels Eragon must make choices, choices that lead to the Empire and beyond, choices that may lead to an unimaginable sacrifice.
Eragon is the greatest hope to rid the land of tyranny, can this one simple farm-boy unite the rebel forces and defeat the king?
Ad blocker interference detected!
Wikia is a free-to-use site that makes money from advertising. We have a modified experience for viewers using ad blockers

Wikia is not accessible if you've made further modifications. Remove the custom ad blocker rule(s) and the page will load as expected.