===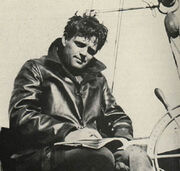 Jack London's Voyage on the Sophie Sutherland Ends on August 26, 1893===
First Story Based on That Voyage Published November 11, 1893
Launches Fantastic Literary Career Spanning Seventeen Years
On this day in literary history, Jack London returned from the seal-hunting voyage that launched his career and formed the basis of his first published work, A Typhoon Off the Coast of Japan, and also provided some of the grim, realistic detail of Pacific seal hunting that bathes the pages of The Sea Wolf in blood.
More about this appears here and here (an exerpt from Charmian London's memoirs and biography of her famous husband, entitled The Book of Jack London).
Ad blocker interference detected!
Wikia is a free-to-use site that makes money from advertising. We have a modified experience for viewers using ad blockers

Wikia is not accessible if you've made further modifications. Remove the custom ad blocker rule(s) and the page will load as expected.