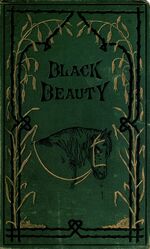 Black Beauty is a children's novel by Anna Sewell, first publshed in 1877. The main character and title character is the horse Black Beauty. The story is told from the point of view of Black Beauty, who lives in 19th century England. Over the course of the book, Black Beauty has a series of owners and caretakers, some good and some bad.Black Beauty makes a best friend named Ginger who dies due to carelessness of her owners.
External links
This article is a stub. You can help the Literawiki by expanding it.
Ad blocker interference detected!
Wikia is a free-to-use site that makes money from advertising. We have a modified experience for viewers using ad blockers

Wikia is not accessible if you've made further modifications. Remove the custom ad blocker rule(s) and the page will load as expected.