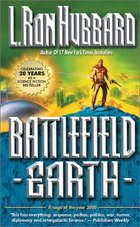 Battlefield Earth is a best-selling science fiction novel by the American author L. Ron Hubbard. It was first published in 1982.
Plot
The book is set in the year 3000, 1000 years after invading aliens, named Psychlos, wiped out the vast majority of the Earth's population to begin stripping the planet of its valuable minerals. Now, with humans on the brink of extinction, it is up to one man to change the fate of the species; And even further, the fate of the Universe.
Ad blocker interference detected!
Wikia is a free-to-use site that makes money from advertising. We have a modified experience for viewers using ad blockers

Wikia is not accessible if you've made further modifications. Remove the custom ad blocker rule(s) and the page will load as expected.