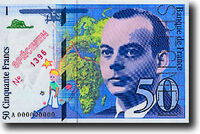 Antoine Marie Jean-Baptiste Roger, comte de Saint-Exupery (June 29, 1900 - July 31, 1944) was a French aviator and author from an aristocratic family.
Before the Second World War, he worked as a commercial pilot on air mail routes in Europe, Africa and South America. He joined the French Air Force at the beginning of the war. After France surrendered to Nazi Germany in 1940, Saint-Exupéry traveled to the United States, hoping to persuade its government to enter the war on the side of the Allies. He spent more than two years in North America, during which time he wrote most of his major works.
In 1943, Saint-Exupéry travelled to Algeria and joined the Free French Air Force, although he was officially eight years too old to join at the time. In July 1944 he disappeared over the Mediterranean Sea during a reconnaissance mission. He is believed to have died at that time. His identity bracelet was discovered in 1998.
Saint-Exupéry is now best known internationally for the children's book that he wrote and illustrated Le Petit prince (The Little Prince), which has been translated into two hundred and fifty languages and dialects.
Although not strictly autobiographical, most of Saint-Exupéry's writings drew on his experiences as a pilot. His writings earned him several French literary awards. He recieved the U.S. National Book Award for his 1939 memoir Terre des hommes (Wind Sand and Stars).
External links
Ad blocker interference detected!
Wikia is a free-to-use site that makes money from advertising. We have a modified experience for viewers using ad blockers

Wikia is not accessible if you've made further modifications. Remove the custom ad blocker rule(s) and the page will load as expected.