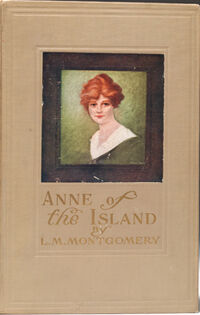 Anne of the Island
is a 1915 novel by the Canadian author
Lucy Maud Montgomery
. It is a sequel to
Anne of Avonlea
and is the third of eight books in the
Anne of Green Gables series
. Anne Shirley must now deal with the fact that she is leaving Green Gables for the first time to go to Redmond College to obtain a B.A. She must also adjust to life as an adult as well as deal with her newfound romances coming from people she never even expected would love her.
External links

This article is a stub. You can help the Literawiki by expanding it.
Ad blocker interference detected!
Wikia is a free-to-use site that makes money from advertising. We have a modified experience for viewers using ad blockers

Wikia is not accessible if you've made further modifications. Remove the custom ad blocker rule(s) and the page will load as expected.