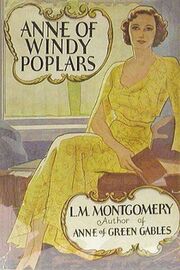 Anne of Windy Poplars
(published as
Anne of Windy Willows
in the UK and Australia) is a 1936 epistolary novel by the Canadian author
Lucy Maud Montgomery
. It is a sequel to
Anne of the Island
and is the fourth book chronologically (second-to-last published) in the
Anne of Green Gables series
. Anne Shirley, now having graduated Redmond College, moves to Summerside to take a three-year job as the principal of Summerside High School. She must adjust to an entirely different community of people -- including the haughty Pringle family, considered the "royal family" of Summerside -- and to her lengthy separation from her now-fiancé Gilbert Blythe, who is studying to become a doctor, who she communicates to by letter.
External links

This article is a stub. You can help the Literawiki by expanding it.
Ad blocker interference detected!
Wikia is a free-to-use site that makes money from advertising. We have a modified experience for viewers using ad blockers

Wikia is not accessible if you've made further modifications. Remove the custom ad blocker rule(s) and the page will load as expected.