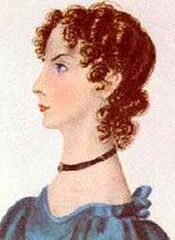 Anne Brontë (1820 - 1849) was one of the Brontë sisters. Her sisters were authors Charlotte Brontë and Emily Brontë.
She wrote Agnes Grey (1845) and The Tenant of Wildfell Hall (1848). Her works are now in the public domain.
References
This article is a stub. You can help the Literawiki by expanding it.
Ad blocker interference detected!
Wikia is a free-to-use site that makes money from advertising. We have a modified experience for viewers using ad blockers

Wikia is not accessible if you've made further modifications. Remove the custom ad blocker rule(s) and the page will load as expected.