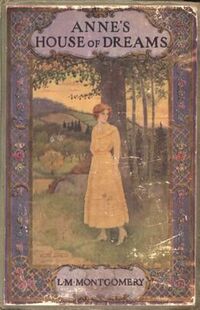 Anne's House of Dreams
is a 1917
novel
by the Canadian author
Lucy Maud Montgomery
. It is a sequel to
Anne of Windy Poplars
and is the fifth book chronologically (fourth published) in the
Anne of Green Gables series
. Anne Shirley, after a three-year stint as the principal of Summerside High School, marries Gilbert Blythe on her last day as a resident of Green Gables. After their wedding, Anne and Gilbert move to a district sixty miles away known as Four Winds, where they purchase their "House of Dreams". Now Anne, who has finally departed forever from Green Gables, must experience her new married life and befriend the unfamiliar community of Four Winds.
External links

This article is a stub. You can help the Literawiki by expanding it.
Ad blocker interference detected!
Wikia is a free-to-use site that makes money from advertising. We have a modified experience for viewers using ad blockers

Wikia is not accessible if you've made further modifications. Remove the custom ad blocker rule(s) and the page will load as expected.