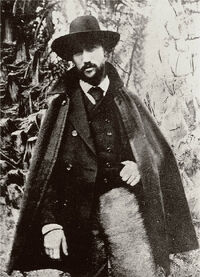 André Paul Guillaume Gide (November 22, 1869—February 19, 1951) was a French author and winner of the Nobel Prize for Literature in 1947. His father died when he was eleven years old. In 1948 he received an honorary degree from the University of Oxford.
Gide exposes to public view the conflict and eventual reconciliation between the two sides of his personality, split apart by a strait-laced education and a narrow social moralism. Gide's work can be seen as an investigation of freedom and empowerment in the face of moralistic and puritan constraints, and gravitates around his continuous effort to achieve intellectual honesty. His self-exploratory texts reflect his search of how to be fully oneself, even to the point of owning one's sexual nature, without at the same time betraying one's values. His writing explores morality, humanism, and self-identity.
Gide's writings were entered into the Forbidden Books list of the Roman Catholic Church.
Works
Ad blocker interference detected!
Wikia is a free-to-use site that makes money from advertising. We have a modified experience for viewers using ad blockers

Wikia is not accessible if you've made further modifications. Remove the custom ad blocker rule(s) and the page will load as expected.