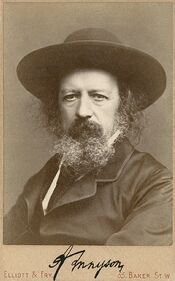 Alfred Tennyson, 1st Baron Tennyson (August 6 1809 - October 6, 1892) was a poet. He was extremely popular during his lifetime in the Victorian period. He was Poet Laureate of the United Kingdom and was buried in poets corner of Westminster Abbey.
Works
External links
This article is a stub. You can help the Literawiki by expanding it.
Ad blocker interference detected!
Wikia is a free-to-use site that makes money from advertising. We have a modified experience for viewers using ad blockers

Wikia is not accessible if you've made further modifications. Remove the custom ad blocker rule(s) and the page will load as expected.