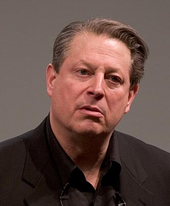 Albert Arnold Gore, Jr., better known as Al Gore (born March 31, 1948) is a former Vice President of the United States, a position that he held between 1993 and 2001 during the presidency of Bill Clinton. Gore is an enviromental activist whose work in raising awareness of climate change earned him the Nobel Peace Prize in 2007.
Gore is the author of several non-fiction books. Two of his more famous books are about the environment: Earth in the Balance: Ecology and the Human Spirit and An Inconvenient Truth: The Planetary Emergency of Global Warming and What We Can Do About It.
External links
This article is a stub. You can help the Literawiki by expanding it.
Ad blocker interference detected!
Wikia is a free-to-use site that makes money from advertising. We have a modified experience for viewers using ad blockers

Wikia is not accessible if you've made further modifications. Remove the custom ad blocker rule(s) and the page will load as expected.