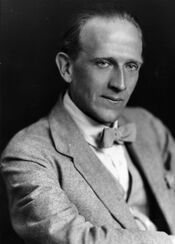 Alan Alexander Milne, (January 18, 1882 - January 31, 1956) published as A. A. Milne, is best known as the creator of the characters Winnie-the-Pooh and his friends who first appeared in the children's books Winnie-the-Pooh and its sequel The House at Pooh Corner.
Mr. Milne was also a successful playwright. He was friends with H.G. Wells and knew Kenneth Grahame.
Life
Alan Alexander Milne was the youngest of three sons. His father was a teacher in his first school. Mr. Milne fought in World War I. He lived in London while getting his writing career going, but moved to Cotchford with his family in 1940.
Works
The following list of his works is incomplete.
Books for children
Plays
Novels
The Red House Mystery
Two People
Essays
Year In, Year Out, collection of essays
Autobiography
External links
Ad blocker interference detected!
Wikia is a free-to-use site that makes money from advertising. We have a modified experience for viewers using ad blockers

Wikia is not accessible if you've made further modifications. Remove the custom ad blocker rule(s) and the page will load as expected.